Multi Dropping Machine
Multi Dropping Machine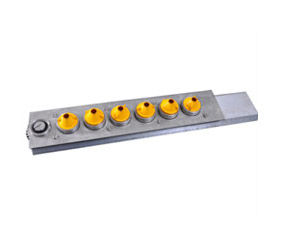 Based in Noida near Delhi Jagsons Industries is a leading manufacturer and supplier of multi dropping machine in india. Our customer can customized the requirement of multi dropping machine as per there cookies manufacturing requirement.
Computerized multi dropping machine
for the automatic forming and dosing on trays of liquid, dense and hard dough. The computer can store various programs which makes products changeover simple and quick.
• The easy adjustment of the parameters of each program facilitates the operator in creating biscuits according to his fantasy.
• Wire cutting device permits the production of short pastry type cookies and similar from hard dough (optional).
• The machine is constructed in stainless steel & food grade anticordal aluminum.
• The low height of the hopper enables easy access for loading the dough into the hopper.
• Particular attention has been given to quick disassemble of the parts in contact with dough, in order to effect a through cleaning of all parts.
© Jagsons Industries. All Rights Reserved (Terms of Use)
Developed and Managed by justintmedia.com